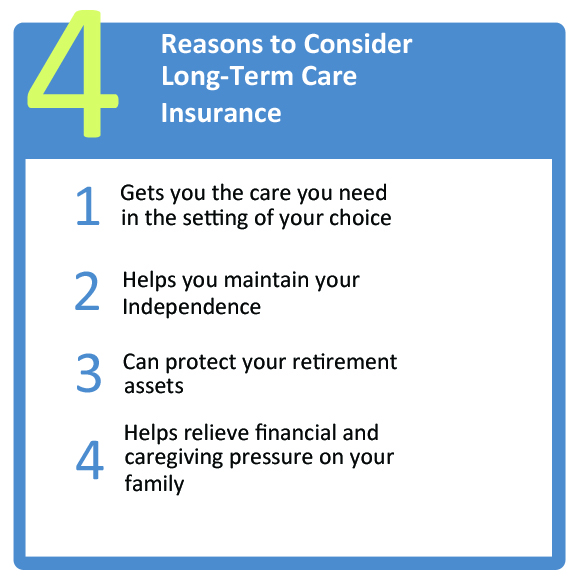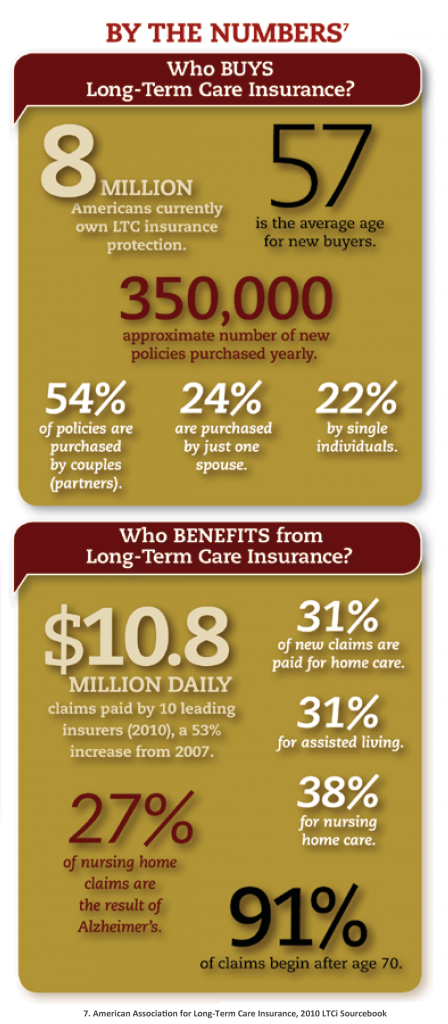 Long Term Care - It's Not Just For The Elderly
It's Not Only Nursing Home Coverage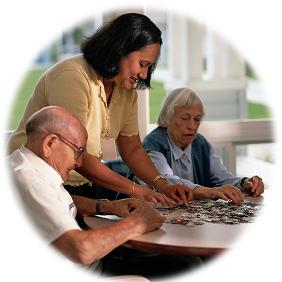 Long term care insurance can be rather expensive costing a 63 year old anywhere from $2100 to $3500 or more annually. That type of insurance may give you close to $300 a-day for coverage in either a Long Term Facility or Home Health Care. For most of Middle America that just isn't in the budget.
With those premiums you're looking at a benefit close to $143,000 or 2.7 years of care. Aside from the fact that you'll need to medically qualify (which 60%+ of the people fail) 74% of the people will spend less than 1 year in a nursing faciliity.
Without a comprehensive plan in place people will watch their hard earned savings and legacy spent down to cover the cost of custodial care or worse their families will have to pay.
With the Affordable Care Act (Obama Care) coming online in 2014 there will be changes to Medicare. While the coverage for Senior Medicare recipients may not see a change the changes will be on the back end. Meaning Doctors and Hospitals will be paid less for their services.
What that means to you is; you'll spend less time in the hospital recovering from heart surgery, hip replacement, or a stroke. Instead Doctors & Hospitals will be moving you to a skilled facility approved by Medicare for your rehabilitation. Keep in mind the choice of facility is chosen by Medicare not you.
At least 70% of people over 65 will need long-term care services at some point. Medicare and most health insurance plans, including Medicare Supplement Insurance (Medigap) policies, don't pay for this type of care, also called "custodial care." Long-term care can be provided at home, in the community, in an assisted living facility, or in a nursing home. It's important to start planning for long-term care now to maintain your independence and to make sure you get the care you may need in the future.

Medicare and You 2013 Handbook, www.medicare.gov
Skilled nursing facility care: Medicare covers semi-private rooms, meals, skilled nursing and rehabilitative services, and other medically-necessary services and supplies after a 3-day minimum medically-necessary inpatient hospital stay for a related illness or injury. An inpatient hospital stay begins the day you're formally admitted with a doctor's order and doesn't include the day you're discharged. To qualify for care in a skilled nursing facility, your doctor must certify that you need daily skilled care like intravenous injections or physical therapy. Medicare doesn't cover long-term care or custodial care. ■You pay nothing for the first 20 days each benefit period. ■You pay $148 per day for days 21–100 each benefit period. ■You pay all costs for each day after day 100 in a benefit period.

Medicare and You 2013 Handbook, www.medicare.gov
Today Americans are living longer and leading more active lives.
However, living longer, more active lives could actually increase the risk of injury or illness, requiring a stay in a nursing facility of some sort.
Research Shows:

70% of people age 65 and older will need Long Term care services at some point in their lives.
74% of people would prefer to receive care in their own home if they could.
Today, consumers have more choices than ever when planning for potential long term care needs.
With the Elder Care SecureSM Program we are able to provide coverage to help pay the cost for Home Health Care for up to 360 days and when we do have to use a nursing or skilled care facility we can help pay for the cost of a Short Term Care plan for an additional 180/270/ or 360 days with a daily benefit from $50 to $300 a day.
15 minutes will save you $40,000 to $75,000. Our independent Advisers are ready to help you now.
Contact Us Today
One of our licensed Adviser's will develop your individual Long-Term Insurance plan.